Page 15 - GENERALOPERATING BY-LAWNO1
P. 15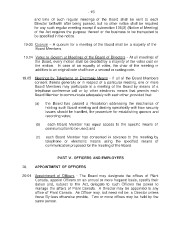 - 15

       and time of such regular meetings of the Board shall be sent to each
       Director forthwith after being passed, but no other notice shall be required
       for any such regular meeting except if subsection 136(3) (Notice of Meeting)
       of the Act requires the purpose thereof or the business to be transacted to
       be specified in the notice.

19.03 Quorum - A quorum for a meeting of the Board shall be a majority of the
         Board Members.

19.04 Votes to Govern at Meetings of the Board of Directors - At all meetings of
         the Board, every motion shall be decided by a majority of the votes cast on
         the motion. In case of an equality of votes, the chair of the meeting in
         addition to an original vote shall have a second or casting vote.

19.05  Meetings by Telephone or Electronic Means - If all of the Board Members
       consent thereto generally or in respect of a particular meeting, one or more
       Board Members may participate in a meeting of the Board by means of a
       telephone conference call or by other electronic means that permits each
       Board Member to communicate adequately with each other, provided that:

       (a) the Board has passed a Resolution addressing the mechanics of
               holding such Board meeting and dealing specifically with how security
               issues should be handled, the procedure for establishing quorum and
               recording votes;

       (b) each Board Member has equal access to the specific means of
               communication to be used; and

       (c) each Board Member has consented in advance to the meeting by
               telephone or electronic means using the specified means of
               communication proposed for the meeting of the Board.

       PART V- OFFICERS AND EMPLOYEES

20. APPOINTMENT OF OFFICERS

20.01  Appointment of Officers - The Board may designate the offices of Plant
       Canada, appoint Officers on an annual or more frequent basis, specify their
       duties and, subject to the Act, delegate to such Officers the power to
       manage the affairs of Plant Canada. A Director may be appointed to any
       office of Plant Canada. An Officer may, but need not be, a Director unless
       these By-laws otherwise provide. Two or more offices may be held by the
       same person.