Page 4 - GENERALOPERATING BY-LAWNO1
P. 4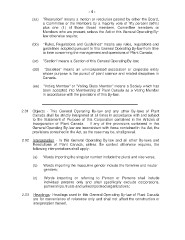 -4-

      (aa) "Resolution" means a motion or resolution passed by either the Board,
              a Committee or the Members by a majority vote of fifty percent (50%)
              plus one (1) of those Board members, Committee members or
              Members who are present, unless the Act or this General Operating By-
              law otherwise require;

      (bb) "Rules, Regulations and Guidelines" means any rules, regulations and
              guidelines adopted pursuant to this General Operating By-law from time
              to time concerning the management and operations of Plant Canada;

      (cc) "Section" means a Section of this General Operating By-law;

      (dd) "Societies" means an unincorporated association or corporate entity
              whose purpose is the pursuit of plant science and related disciplines in
              Canada.

      (ee) "Voting Member" or "Voting Class Member'' means a Society which has
              been accepted into Membership of Plant Canada as a Voting Member
              in accordance with the provisions of this By-law.

      2. FUNDAMENTAL TERMS AND INTERPRETATIONS

2.01  Objects - This General Operating By-law and any other By-laws of Plant
      Canada shall be strictly interpreted at all times in accordance with and subject
      to the Statement of Purpose of this Corporation contained in the Articles of
      Incorporation of Plant Canada. If any of the provisions contained in this
      General Operating By-law are inconsistent with those contained in the Act, the
      provisions contained in the Act, as the case may be, shall prevail.

2.02 Interpretation - In this General Operating By-law and all other By-laws and
         Resolutions of Plant Canada, unless the context otherwise requires, the
         following interpretations shall apply:

      (a) Words importing the singular number include the plural and vice versa;

      (b) Words importing the masculine gender include the feminine and neuter
              genders;

      (c) Words importing or referring to Person or Persons shall include
              individual persons only and shall specifically exclude corporations,
              partnerships, trusts and unincorporated organizations;

2.03 Headings- Headings used in this General Operating By-law of Plant Canada
         are for convenience of reference only and shall not affect the construction or
         interpretation thereof.